Statement by the Maldives at the
Third Committee on Advancement of Women
by Second Secretary, Ms. Aishath Fareena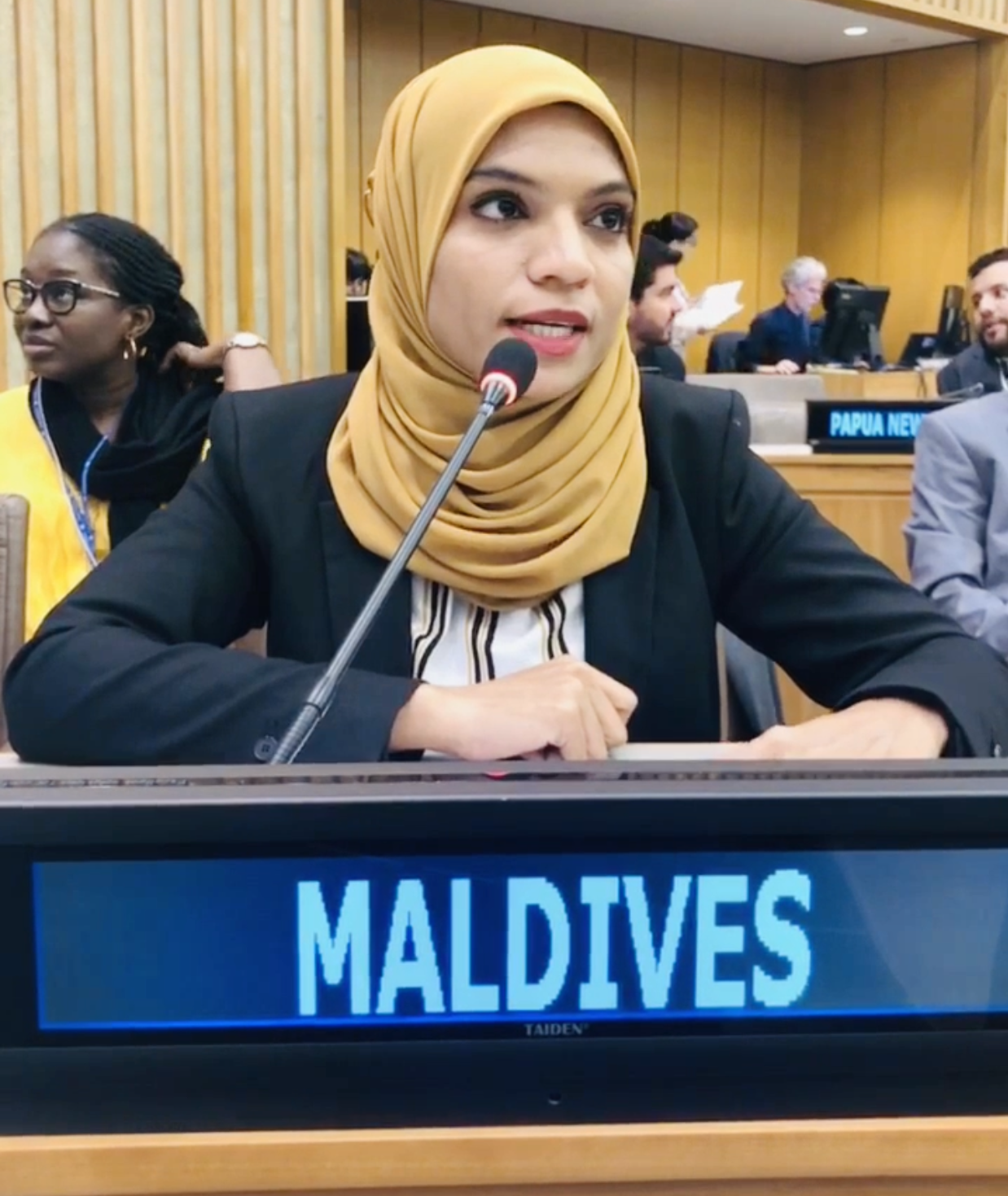 New York, 4 October 2019
Thank you, Mr. Chairman,
I would like to thank the Secretary-General for his reports under this agenda item, which, I believe will surely enhance this debate.
Mr. Chairman,
While empowering women and girls no doubt contribute to economic growth, development, and eradication of poverty, it is also vital for the sustainable future of any country. Ending all forms of discrimination against women and girls is not just a basic human right; it is the cornerstone of policies for greater economic empowerment and gender mainstreaming. This is what the Maldives believes in and aspires to achieve – a society that values women and treats them as equals.
Over the past decade, the Maldives has seen a gradual but steady shift towards the promotion of women's empowerment, especially with increased economic and educational opportunities. The Maldives has already achieved gender parity in education with an equal number of boys and girls in secondary education. In fact, in higher education, female graduates out number male graduates in the Maldives. In addition to this, improved health services have reduced maternal and child mortality, leading to a better quality of life.
Mr. Chairman,
The Constitution of Maldives prohibits any form of discrimination based on gender. To promote the rights and wellbeing of women and girls, the Domestic Violence Prevention Act was passed in 2012. This law, by recognizing domestic violence as a crime for the first time, secures legal protection for victims. In order to encourage greater participation of women in social, economic, political and public life, the Gender Equality Law was ratified in 2016. The law prohibits victimization and introduces remedies for discrimination based on gender. It also highlights the duties and responsibilities of State institutions and other relevant parties. Although these important pieces of legislation exist, we are still faced with numerous challenges in its implementation. Raising awareness, moving away from stigmatization and the natural tendency to assign traditional roles must be tackled as part of a wider effort to promote women's empowerment.
Mr. Chairman,
The Government places high importance on increasing the number of women in executive positions, emphasizing the central role of women in national development. Thirty-five percent of ministerial posts in the Cabinet is presently occupied by women. This is the first time in the history of Maldives, that such a large proportion of the cabinet has included women. Also, in August this year, for the first time ever, two female Supreme Court justices were appointed by the President. Additionally, close to 50 percent of all Ambassadors are women.
Despite the positive progress we have achieved, the remaining challenges are many. Women's participation in formal employment is significantly low in the Maldives. The value of unpaid care and domestic work remains largely unrecognized. An unfair share of household responsibilities, coupled with lack of childcare services makes it exceedingly difficult for women to be employed or to take up leadership positions. We must change our society's beliefs on these traditional gender roles and efforts are made in Maldives to address these issues. To support working mothers, the Government has introduced flexible working schemes in order to alleviate these disparities. On the occasion of this year's International Women's Day, the Government introduced six-month paid maternity leave for working mothers. The Government has also been working on expanding financial inclusion of women, especially in remote islands, by giving them easy access to loans and mobile banking to facilitate greater participation in SMEs. We are also looking into introducing special lending schemes specially for women in working in agriculture.
Mr. Chairman,
The Maldives still faces considerable challenges in increasing the number of women in elected positions. Only 4 out of 85 Members of Parliament are women. Similarly, the majority of local councillors are men. This shows that much work needs to be done to break through the barriers faced by women in politics. Men still dominate decision-making, in particular in the political sphere, where women remain under-represented at all elected levels. We cannot make sound policies for the entire population, when half the population is under-represented. We must remove the economic, social and cultural barriers that are inhibiting women from successfully vying for, and winning elections. We also need to make further progress in creating awareness at the community level, in order to promote the empowerment of women. The Government will continue its efforts until every woman and girl in the Maldives achieves equal opportunities, choices, acceptance and access.
Thank you, Mr. Chairman.
ENDS