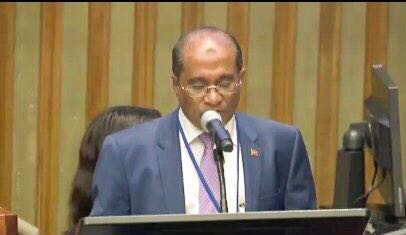 18 July 2017 - The Maldives has stated that commencing the Voluntary National Review process for the High Level Political Forum has brought impetus to the challenging task of mainstreaming and implementing the 2030 Sustainable Development Agenda domestically.
During the national statement delivered at the Forum today, His Excellency Mr. Abdullahi Majeed, the Minister of State for Environment and Energy of the Republic of Maldives, highlighted that the process brought together all implementing Government bodies and institutions to collectively review the progress which has been made in implementation of the Sustainable Development Goals and strengthened cross sectoral coordination in enhancing future efforts for achieving these targets.
Minister Majeed also emphasized the support needed by countries such as the Maldives not only for the means of implementating these goals, but also to improve capacity building for data collection and measurement to measure progress of implementation.
The Maldives will be presenting the country's Voluntary National Review in an individual presentation format on the morning of 19 July 2017 with Ethiopia, Honduras and India.